The Post and other outlets have identified the suspect as James T. Hodgkinson, a 66-year-old man from Belleville, IL who reportedly owns a home inspections business.
The Post's Robert Costa interviewed a man who says that he and Hodgkinson campaigned for Sanders in Iowa:
Charles Orear, 50, a restaurant manager from St. Louis, said in an interview Wednesday that he became friendly with James T. Hodgkinson, whom law enforcement officials identified as the shooter, during their work in Iowa on Sen. Bernie Sanders's presidential campaign. Orear said Hodgkinson was a passionate progressive and showed no signs of violence or malice toward others.
CNN also reported that law enforcement authorities are searching through the suspect's social media postings, which included "anti-Trump rhetoric."
Rep. Ron DeSantis (R-FL) told MSNBC late Wednesday morning that the profile photo on the suspect's alleged Twitter account matched the man he saw in the parking lot outside the baseball game, and who asked him whether those playing were Republicans or Democrats.
There are two Facebook accounts reported for the suspect.
Hodgkinson's apparent cited, by the Smoking Gun website, has biographical details that match the description of the suspect, and is devoted to Sanders. The profile photo touts "democratic socialism," and the cover photo is an image of a smiling Sen. Sanders.
One of the Facebook posts at that page also links to a Change.org petition calling for the impeachment of President Donald Trump for treason. The owner of the page added above the link: "Trump is a Traitor. Trump Has Destroyed Our Democracy. It's Time to Destroy Trump & Co."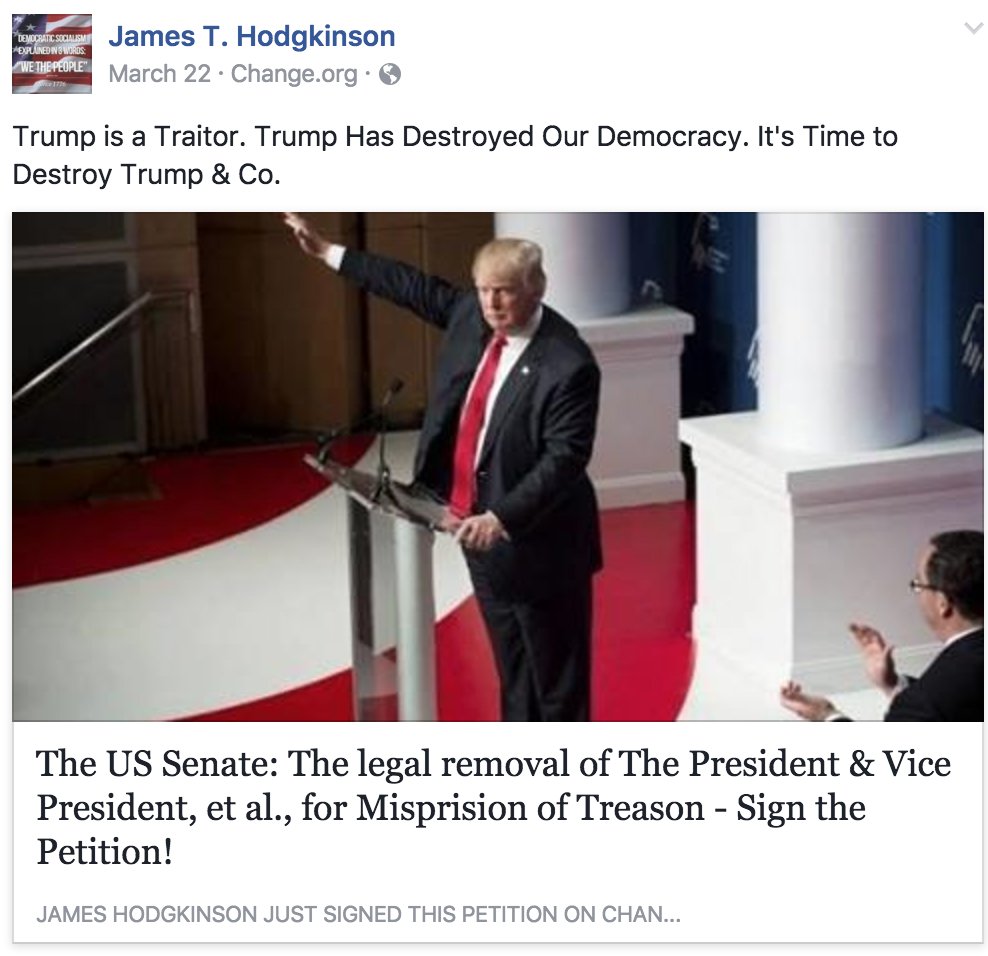 A second Facebook account, confirmed by the local Belleville News-Democrat in Hodgkinson's former hometown, includes similar content.
A Twitter account — whose profile also matches the description of the suspect — only had a handful of tweets and 86 followers as of this writing, one of which replied to a tweet by Sanders.
Hodgkinson had reportedly moved to Alexandria recently.
Authorities have not yet confirmed a motive for the shooting.
Sen. Sanders issued a statement Wednesday morning: "Our prayers go out for a full recovery of Rep. Scalise, the congressional aides and police officers who were injured. We've got to stop the violence."
(via: Breitbart)