Little surprise that Hollywood's arrogant environmentalist spokesman, Leonardo DiCaprio, played a big role in the Peoples Climate March in Washington, D.C. last week.
A little more surprising were the ridiculous claims DiCaprio made both during the march and on Twitter. We thought he was a little smarter than that.
Like the other libtards in attendance, DiCaprio insisted that policies championed by President Trump are going to destroy the planet and ruin everything for everyone.
Kind of a theme for these guys.
Tomorrow, I march for climate justice and to protect our right to a healthy future. Join us. #ClimateMarch http://www.peoplesclimate.org 

I'm joining the Peoples Climate March. So should you.

Donald Trump is a threat to the future of our planet, the safety of our communities, and the health of our families. Join the People's Climate March on April 29th.

peoplesclimate.org
Ah, but it seems old Leo isn't so bright, after all.
Because while he was preaching to everyone about being more "green," DiCaprio was busy spewing plenty of pollution himself.
Not only had DiCaprio spent the previous week on a super-yacht alone with a supermodel, but he actually FLEW TO THE CLIMATE MARCH ON A PRIVATE JET.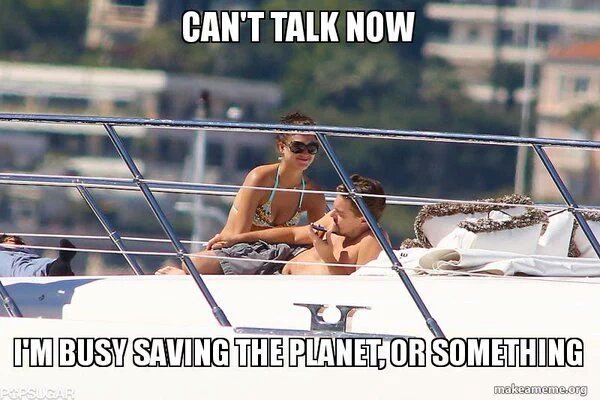 @LeoDiCaprio once my utilities go back to pre-Obama (they never will) I will worry about your hot air, Hollywood hypocrites
IDIOT.
(via: Conservative Post)