American Jews were the religious group most targeted by hate crimes in 2019, the FBI reported Monday, facing more than 60 percent of anti-religious bias incidents.
The number of anti-Semitic hate-crime incidents rose 14 percent in 2019, data from the bureau's annual hate-crime statistical report show, with police departments reporting 953 events and 1,032 victims. That is 82 more incidents than in 2018, continuing a rising trend over the past half decade.
Jews were in fact a leading target of hate crimes overall, regardless of motivation. In absolute terms, only more black Americans were victimized; on a per capita basis, only gay men and trans people were more likely to be targeted, a Washington Free Beacon analysis found.
The shocking increase in reported bias incidents sums up a year in which a high-profile synagogue shooting and a spate of anti-Semitic violence in New York City took place. The latest figures suggest that anti-Jewish bias is not an isolated phenomenon but a widespread and growing threat to Americans' safety.
Jewish leaders decried the uptick, calling for greater vigilance against anti-Semitism.
"Once again, the FBI hate crime statistics confirm what the Jewish community knows all too well: that violent antisemitism is a daily reality," Joel Rubin, the executive director of the American Jewish Congress, told the Free Beacon. "At the American Jewish Congress we have repeatedly called out rhetoric from both the left and the right that contributes to normalizing hate. Public officials have a special obligation to ensure that their statements and positions inhibit rather than inflame radicals."
"Anti-Jewish hate crimes have been the most prevalent type of anti-religious hate-based crimes going as far back (1996) as the FBI has public figures on hate crimes," Republican Jewish Coalition communications director Neil Strauss told the Free Beacon. "Antisemitism isn't a political issue and doesn't emanate from one side of the political divide in particular. That is why the RJC has been at the forefront in calling out antisemitism on the left and the right. Jewish people, like all Americans, deserve to live without fear. We stand committed to making that possible."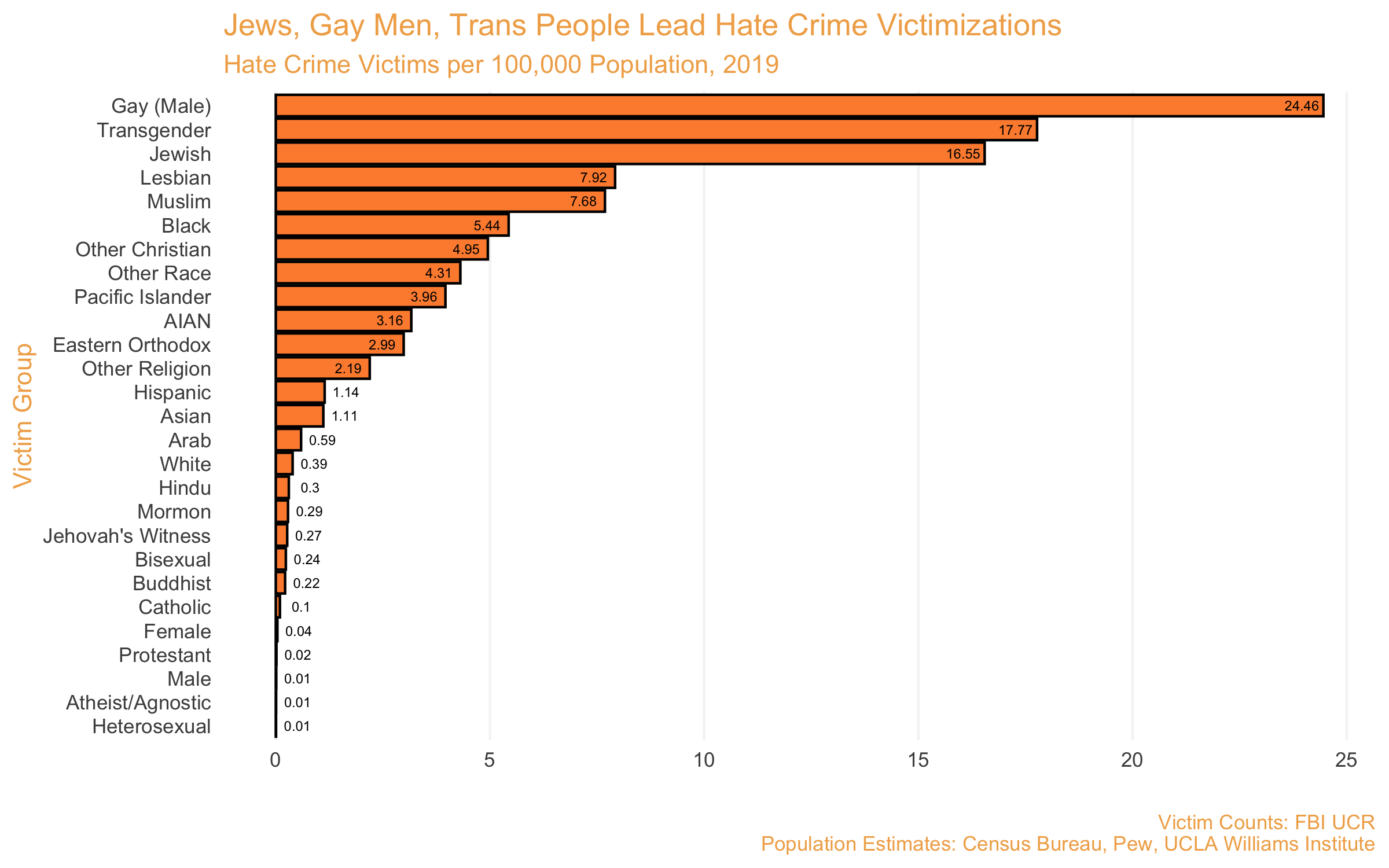 The number of Jewish hate crime victims is particularly shocking in the context of Jews' small share of the population—less than 2 percent, according to the Pew Research Center. Out of every 100,000 Jews, 16 were victims last year, outpacing all but gay men (1.1 percent of the population) and trans people (0.3 percent).