Disgraced Hollywood producer Harvey Weinstein sent several flattering emails to Hillary Clinton when she was Secretary of State, even offering her free copies of his movies.
In 2010, Weinstein appeared eager to rekindle his relationship with Clinton, as her political star continued to rise.
"As time moves on, I realize I haven't seen you and Mrs. Clinton (Hillary) in a long time, but I think of you both often," he wrote in an August 2010 email to Clinton's assistant Capricia Marshall. "I don't know if movie producers are still worthy in your world, but next time you're in NYC I'd love to see you."
He signed the email as "Your bad friend, Harvey."
The emails from Weinstein to Hillary Clinton were included as part of the released documents from her time as Secretary of State. They can be found on the State Department's FOIA website. 
Weinstein recalled "fond memories" of Clinton watching Shakespeare in Love and promoted his upcoming Oscar-winning movie The King's Speech.
"Again I think you would both like it (and Hillary would approve because it's PG-13 with not too many swear words)," Weinstein continued.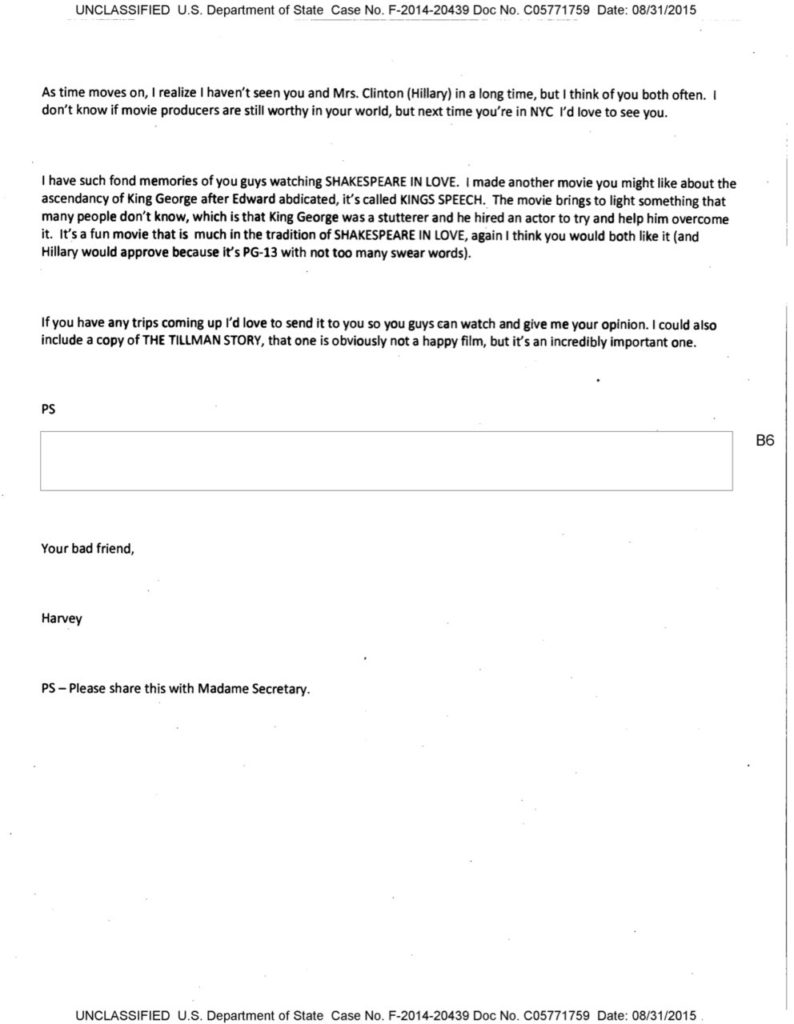 The former first lady appeared delighted by Weinstein's pitch and asked for more of his films.
"That is so sweet," Clinton replied to her assistant. "So pls let him know I not only want the movies, including The Tillman Story) but I've heard about some of his other projects from Jamie Patricof (Company Men, Blue Valentine) that also sound great."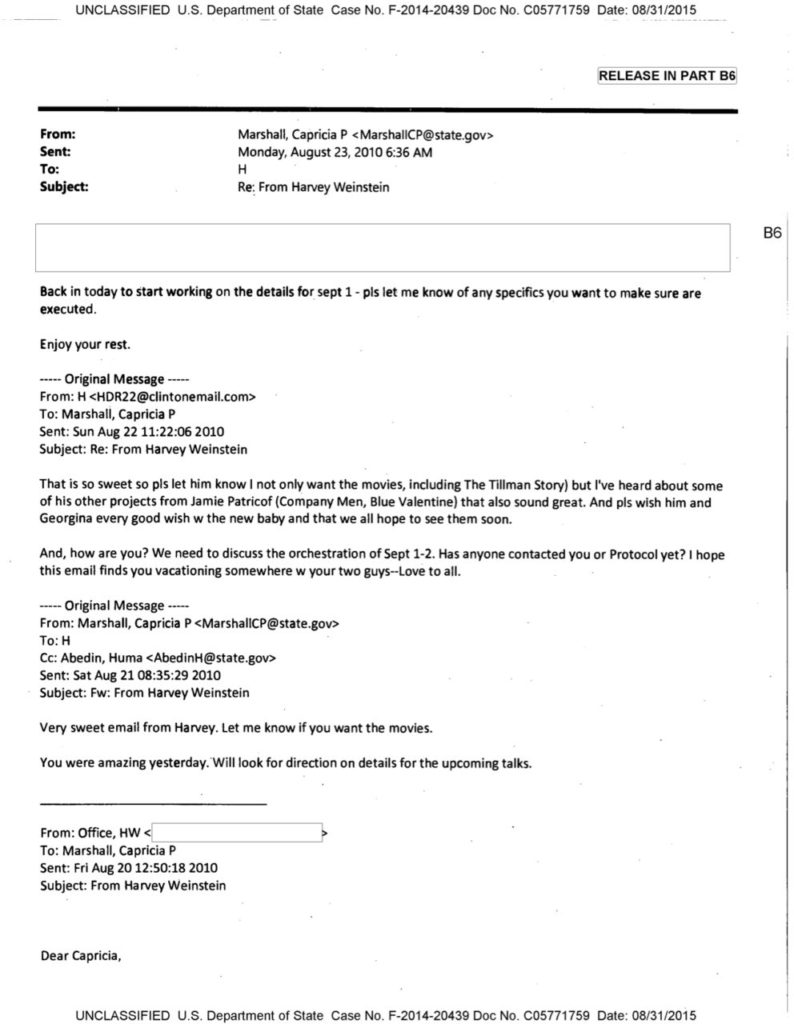 In June 2012, Weinstein emailed Clinton's assistant again to send her a copy of his interview with President Bill Clinton after he guest-hosted Piers Morgan's nighttime show on CNN.
"Do you think calling Secretary Clinton the greatest Secretary of State of all time shows just a touch of my bias?" he wrote. "Pres. Clinton is incredible. I hope our current president, who is as busy as can be, gets to see it."
He also told Clinton that he tried to smear former presidential candidate Mitt Romney and Donald Trump in the interview.
"I did my best to flatten Romney in a cool kind of way, and talked about how Donald Trump was uncool was the least I could do," he wrote.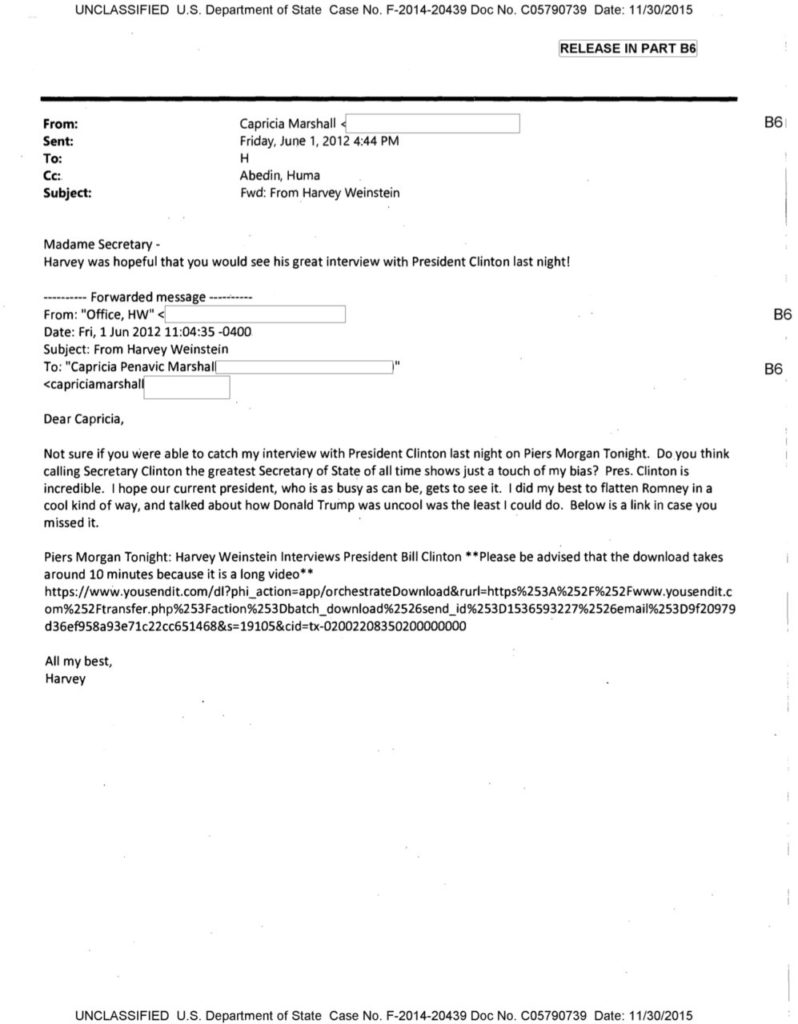 In 2013, Weinstein emailed again to offer his services.
"Is there anything I can do for Hillary?" Weinstein emailed in January 2013 to Clinton's assistant at the State Department. "Perhaps there's specific movies she wants to see? Please let me know if there's anything I can do."
"Pls respond," Hillary replied to her assistant.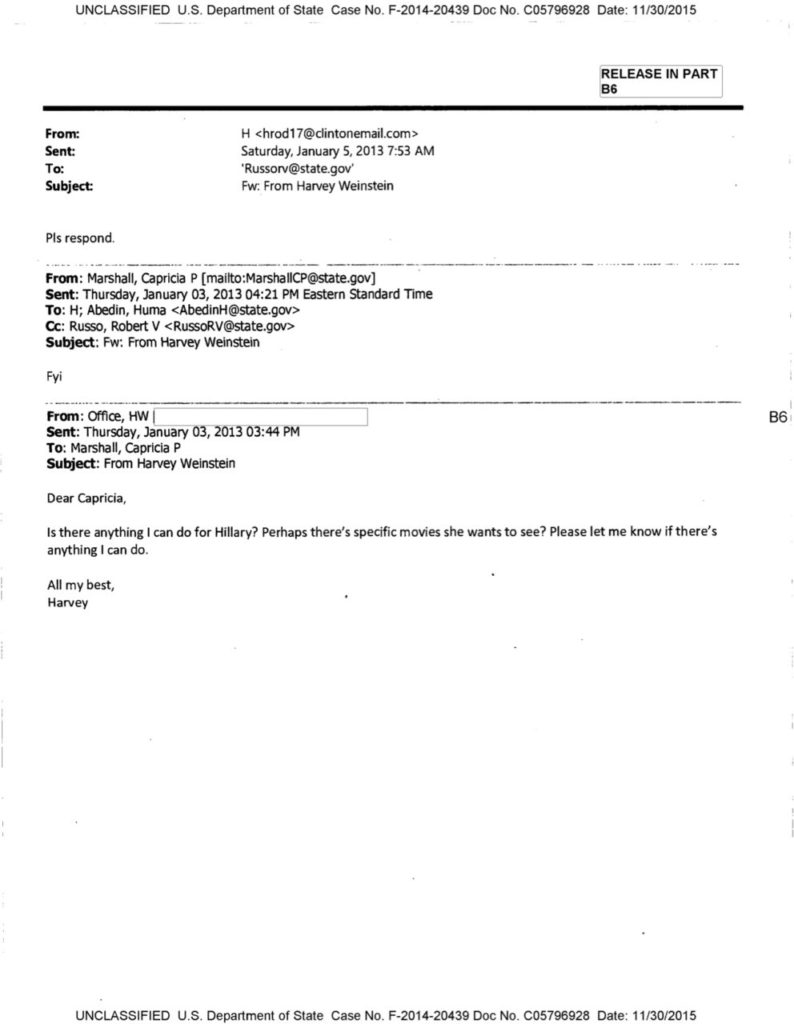 Via (Breitbart)