President Donald Trump left the Washington, D.C. beltway, coming full circle to Pennsylvania Saturday with a list of accomplishments in his first 100 days in office, comparing those to the promises he mapped out in his Gettysburg campaign speech, "Contract for the American Voter."
After rating the media's first 100 days performance, Trump highlighted his own achievements, "For the last 100 days, my administration has been delivering every single day for the great citizens of our country." The President mentioned putting coal miners back to work, protecting America's steel and aluminum, eliminating regulations, and "keeping one promise after another."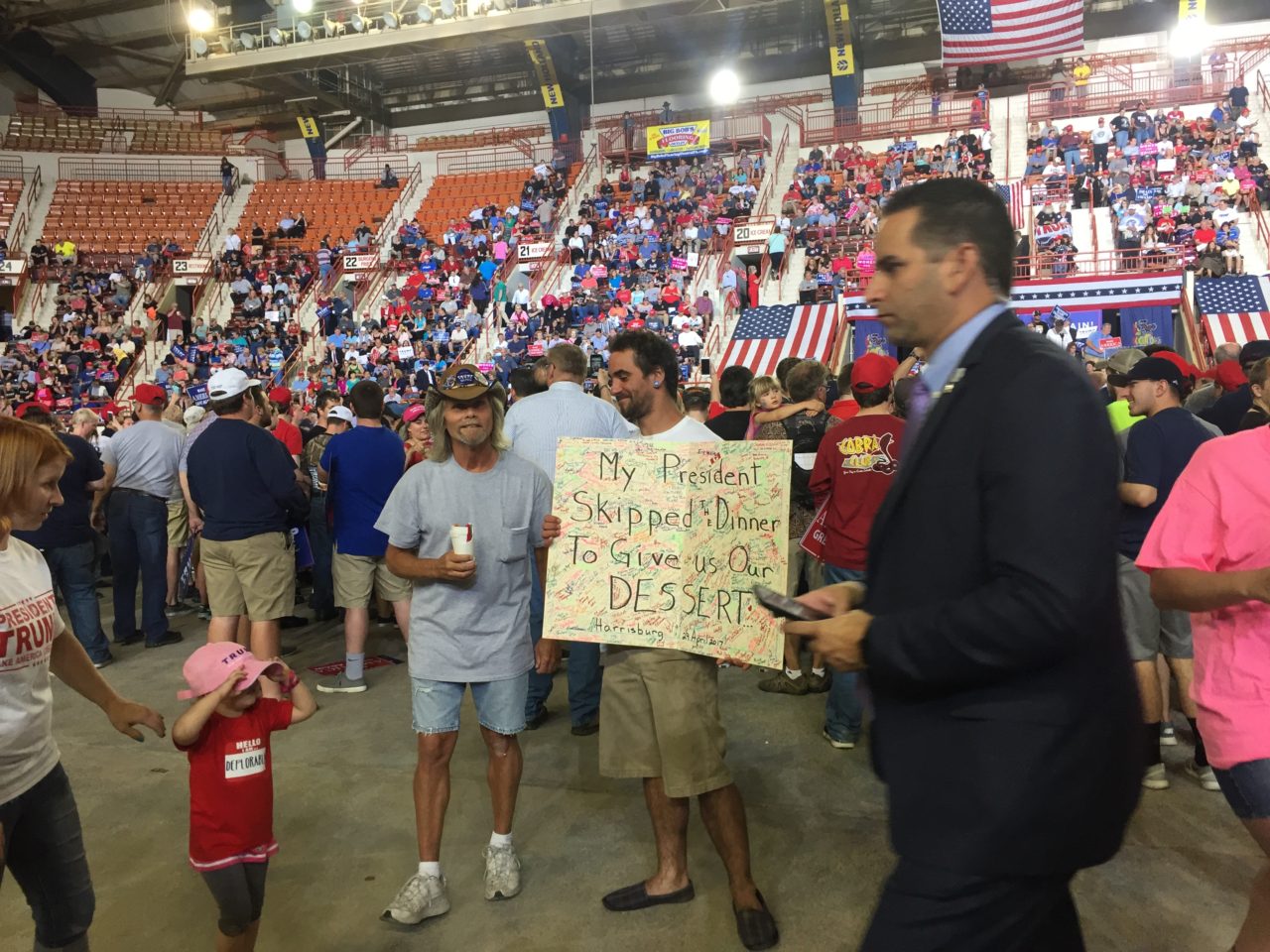 Trump criticized the prior administration for leaving him with a troubled state of affairs.
The President spoke of his meeting with China's President Xi Jinping in Florida and addressed why he has not yet fulfilled a campaign promise to label China as a currency manipulator. Trump pointed out that he is currently negotiating with Xi regarding pushing back against North Korea's nuclear program. "I think it's not exactly the right time to call China a currency manipulator right now, do we agree?" The statement was met with cheers from the crowd.
"Now arrives the hour of action," said Trump, "and that is what we've delivered, 100 days of action."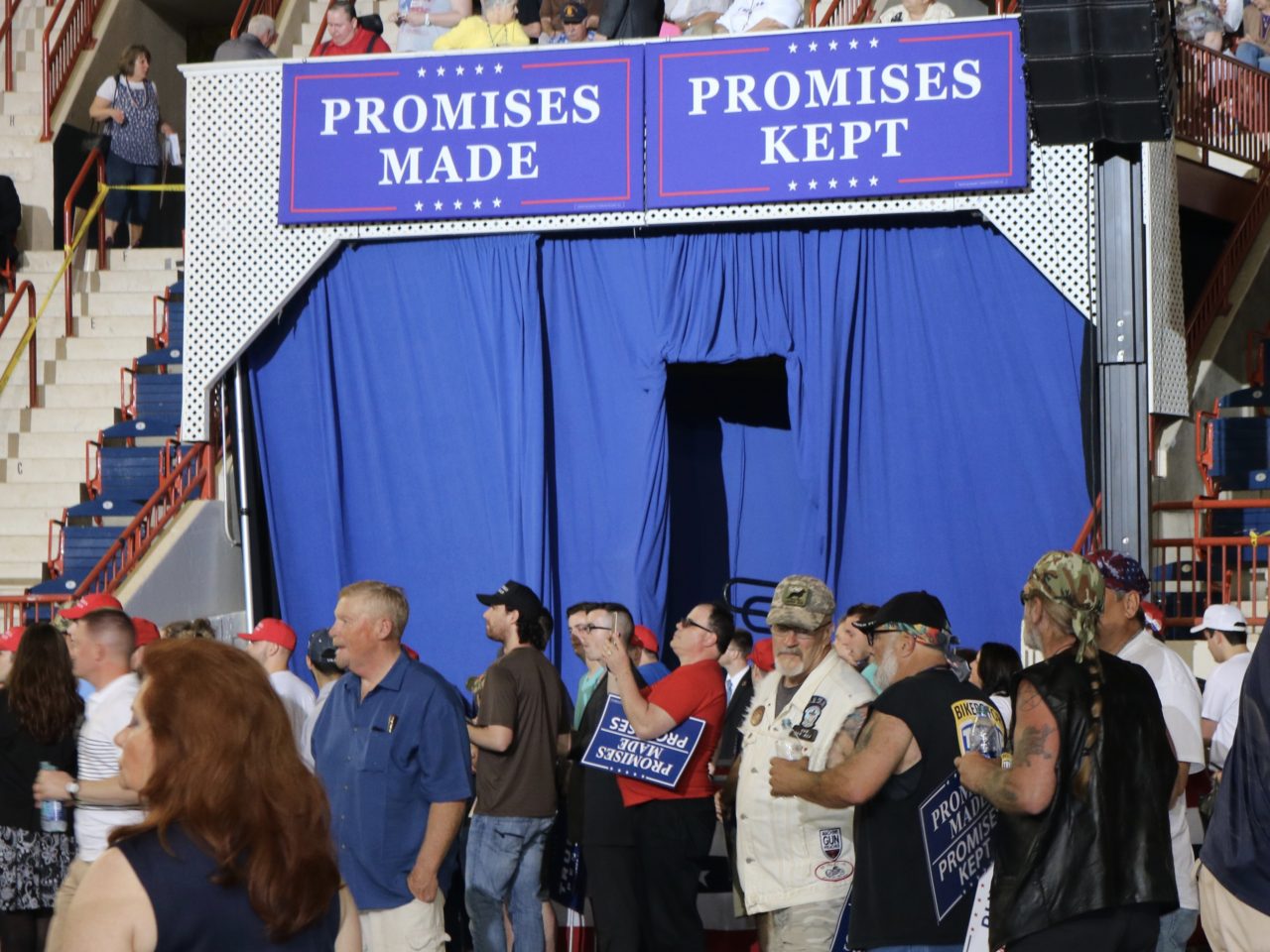 Trump began reviewing the actions of his administration in its first 100 days:
We are ending the offshoring and bringing back our beautiful, wonderful, great American jobs. We are eradicating the criminal gangs and cartels that have infiltrated our country… we're taking steps to renegotiate or cancel any agreement that fails to protect American interests.
He went on to declare that the U.S. has built strong relationships with foreign countries, specifically naming Germany, Japan, China and the U.K.
He cited his appointment of Justice Neil Gorsuch to the Supreme Court of the United States and his quick move to remove the U.S. from the Trans-Pacific Partnership. "That would have taken your jobs in Pennsylvania," said Trump. "The TPP would have been a tremendous disaster for our country."
He brought up the administration's recently initiated investigations into "foreign steeldumping and aluminum dumping throughout our country."
"We are reviewing every single trade deal and wherever there is cheating we will take immediate action and there will be penalties," said Trump.
He spoke of the recently started renegotiation of NAFTA that followed his threat to leave the agreement. "We will renegotiate NAFTA… we have been on the wrong side of the NAFTA deal with Canada and with Mexico for many, many years, many decades, we can't allow it to happen." Trump resolved that the U.S. will leave NAFTA "if we don't get a good deal and a fair deal for our country."
"We have millions and millions of dollars in unpaid duties to be collected at the border from countries that break the rules and that's just starting," said Trump. "We just want fairness."
After noting that "[His] directors will put brand new Pennsylvania steel into the spine of America," Trump continued, saying he has followed through on his campaign promise to "buy American and hire American."
On April 18, Trump signed the "Buy American and Hire American" executive order.
"In just these first few months we've created 99,000 new construction jobs, 49,000 manufacturing jobs, and 27,000 new mining jobs," said President Trump. "And we have over 600,000 new jobs."
He recounted the rapid rise in the stock market since his election, "I believe we have a record from the time we got elected…for the biggest increase in the stock market."
We've removed the shackles on energy exploration imposed by the last administration, lifting the restrictions on oil, shale and natural gas, and very importantly for Pennsylvania, we have ended the war on beautiful, clean coal and we are putting our great coal miners back to work.
He reminded Americans of approvals for construction of the Keystone XL and Dakota Access pipelines. "We got them their approvals in 24 hours, one day," said Trump. "There's going to be approximately 48,000 jobs."
He also brought up that the administration has stricken "job-killing regulation" on the auto industry and added that the administration has created a new rule requiring two regulations be eliminated for every new one to be imposed.
Turning to the legislative front, President Trump referenced the 29 bills he has already signed into law, "a record not surpassed since the Truman Administration." Thirteen include the elimination of regulations.
"I've signed legislation to expand Veterans Choice," said Trump. "We've increased by 42 percent, the approval for veterans using the choice program."
He went on to cite his creation of an office of accountability at the Veterans Administration.
The President later recalled his institution of "a 5-year ban on federal officials becoming lobbyists after they leave government service." He added, "I've issued a lifetime ban on federal officials becoming a lobbyist for a foreign government." He used these of evidence of his popular campaign promise to "drain the swamp."
Moving to the issue of illegal immigration, a paramount topic in his presidential campaign, Trump said, "we're going to have the wall, don't worry," as the audience chanted "build the wall."
Trump's promise to build the wall was a central promise of his campaign and common rally cry heard at pro-Trump events across the country.
"In just 100 days, we have taken historic steps to secure our border, impose needed immigration control like you've never seen before, is that true? And properly screen and vet those seeking admission into our country," said Trump. "Our immigration system should put the needs of American workers, American families, American companies and American citizens first."
He cited his appointment of Gen. John Kelly to the position of Secretary of Homeland Security before stating, "since my election, we've already achieved an unprecedented 73 percent reduction in illegal crossings on our southern border, the greatest reduction in the history of our country and we just started."
He then highlighted the opening of new office VOICE, Victims of Illegal Immigration Crime Engagement Office, "to make sure that no American victim is ever again ignored by their government." The department has been designed to assist those who have been victimized by illegal aliens.
He later noted Egypt's release of American aid worker Aya Hijazi from an Egyptian prison.
Among the crowd, Bikers for Trump were spotted flanking some of the protesters as they were removed from the arena floor. About half a dozen protesters in total were seen being removed from the arena floor by law enforcement near the media area.
(via: Breitbart)