Hillary Clinton is doing her best to hide her health issues from the world, but being in the public spotlight isn't doing her any favors. Proving just that, a few keen eyes picked up on an odd bulge seen under her coat during last night's debate, and they claim that it exposes what she's been trying to hide all along.
As most of the nation is aware, you can't really expect the truth when it comes to Hillary – and it doesn't matter what she's talking about. From things like Benghazi to her emails and much more, there's no wonder why no one believes her when she says that she's fit as a fiddle.
Of course, her collapsing in the middle of the street, suffering endless coughing fits, and the other odd occurrences that continually point to health issues don't help when it comes to convincing anyone, and it seems that the evidence was just piled on a little more after some spotted an odd bulge underneath her coat at last night's debate.
View image on Twitter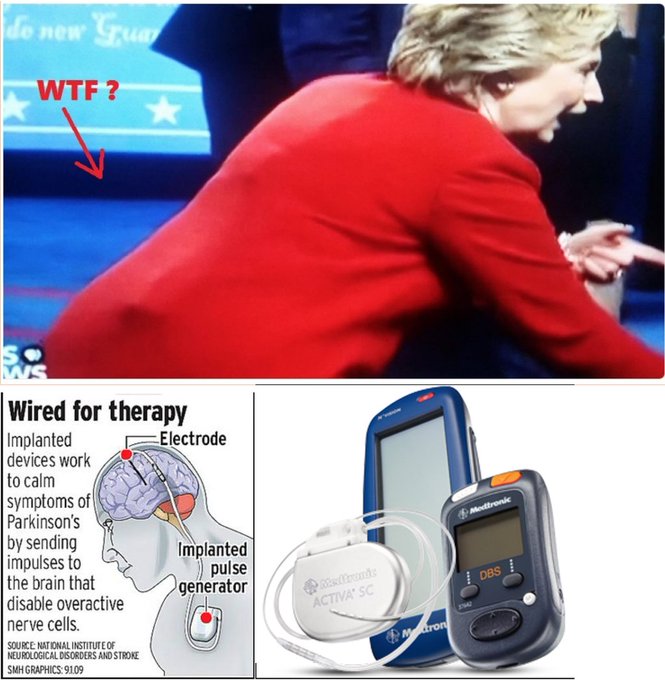 "As depicted in a series of images, an odd lump can be seen under the presidential hopeful's clothes. Although some people have simply tried explaining it away as her wireless mic battery pack, others aren't so sure. Since the wire runs directly up the center of her back to her hair rather than over her shoulder, it most certainly doesn't seem as though the wire was attached to her microphone around the front."
Given the way she's been acting, many say it's possible that she's been fitted with an electrical implant meant to calm the symptoms of Parkinson's disease. With some people suggesting that her twitch seen after a bought of laughter as more evidence of her illness, a few people are convinced that the odd bulge warrants further speculation about her health. Others suggest that it could have actually been an earpiece, which, of course, wouldn't be the first time.
(via: MadWorld News)